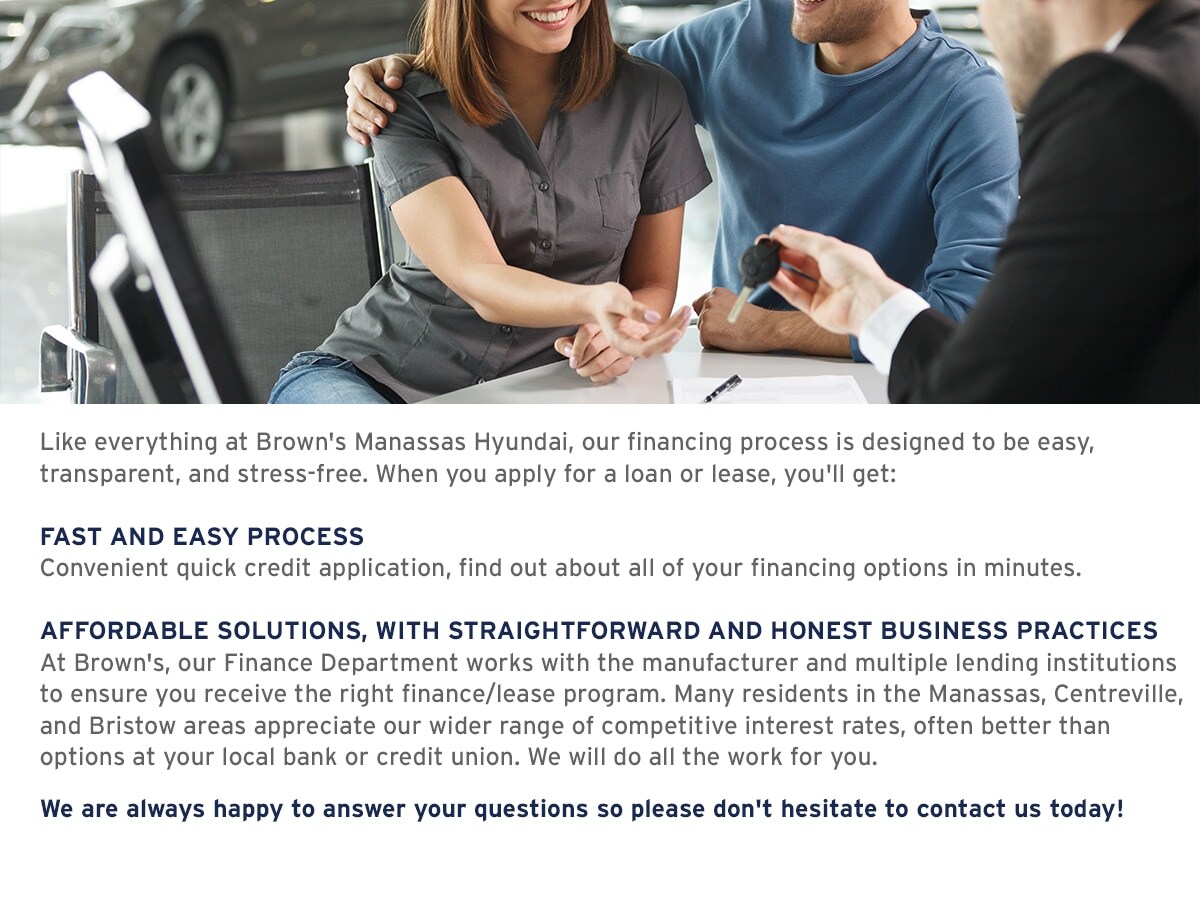 ---
Secure Auto Financing From Brown's Manassas Hyundai On You New Hyundai or Used Car
Few car shoppers can simply drive off a lot having paid in cash for a new Hyundai or used car. That leaves your next new Hyundai or used car lease or purchase to the auto financing process, and we're happy to help you fit the perfect ride for your travels around Fairfax, Alexandria and beyond into your budget. Apply for financing right now, then be in touch with or head over to our Manassas Hyundai dealership today so you can get started on your next new or used car lease or loan.
What kind of auto financing works best for you and the vehicle you want to buy here in the Centreville and Woodbridge area? If you're shopping for a new Hyundai, you'll have plenty of options. By leasing your next Elantra, Santa Fe or Tucson, you'll spend less up front and on a monthly basis, while having service covered by your car's warranty. At the end of your lease term, you can either buy out your Hyundai for its remaining value, lease an updated version of the same car, or choose something completely different. On the other hand, buying a new Hyundai with a car loan is a great long-term investment, as these models tend to hold onto their value for several years.
Similarly, securing a used car loan for the kind of pre-owned vehicle you want to drive around Manassas and Alexandria is easy as can be. Simply apply for financing right now and when the time comes to take the final steps for buying or leasing, we'll match you up with the kind of new Hyundai or used car that works for your budget and makes the most sense for your travel needs. See how easy applying for financing is with Brown's Manassas Hyundai and visit us today to get started on your next lease or loan.